EDF Energy and the UK government have agreed commercial terms for EDF's proposed Hinkley Point C power station, a vital step towards a new generation of nuclear power stations in the UK.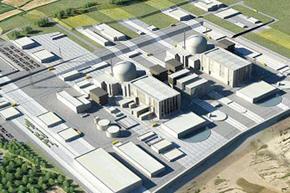 The long-awaited deal sets the financial structure for the long-term supply of low-carbon electricity from new reactors at Hinkley Point. EDF still has to make a final investment decision on the project.
"This is a significant milestone in the development of new nuclear power stations in the UK," commented Mike Tynan, chief executive of the Nuclear AMRC. "Utilities, developers and investors need confidence in both long term cost and revenue profiles for making a final investment decision, and I'm sure that this announcement will be welcomed by everyone involved in UK new nuclear build. 
"The Nuclear AMRC looks forward to the Hinkley Point scheme moving forward with EDF Energy, and is already working closely with EDF and Areva to develop the UK supply chain."
Electricity from Hinkley Point C will receive a guaranteed price under the "contract for difference" (CFD) regime which also applies to windfarms and other low-carbon sources. The price is £92.50/MWh, linked to the consumer price index. If EDF confirms that it will also build new capacity at Sizewell, that price is reduced to £89.50/MWh to reflect economies of scale.
The Department of Energy and Climate Change (DECC) forecasts that electricity from Hinkley Point C will be competitive with future gas generation prices. The contract will last for 35 years from the date of commissioning, and will give EDF a rate of return of around 10 per cent.
EDF has also announced details of the investment consortium for Hinkley Point C. EDF group will retain 45-50 per cent of the venture, with reactor provider Areva taking 10 per cent. Following the government's recent go-ahead for Chinese investment in UK nuclear generation, China General Nuclear Corporation and China National Nuclear Corporation will take a total 30-40 per cent stake. Other interested parties may take up to 15 per cent of the venture.
The consortium will invest around £16 billion in two EPRs at Hinkley Point, including £14 billion in construction costs. Around 57 per cent of the construction value could be spent in the UK, EDF says.
EDF confirmed that it has finalised terms with the four top-tier suppliers to the project:
Bouygues TP/Laing O'Rourke (civil works)
Costain (marine work)
Alstom (turbines)
Areva (instrumentation & control, nuclear steam supply system, fuel)
EDF Energy chief executive Vincent de Rivaz said: "What we are announcing today is a good, fair and balanced deal for consumers, the UK and EDF. The project will kick start the UK nuclear programme and will help rebuild the nation's industrial stamina. The progress so far on the project reflects the great skill and determination of a world class team which is ready to get to work and turn Hinkley Point C into a reality."
Luc Oursel, chief executive of Areva, said: "Today's agreement represents the fruit of a joint endeavour with EDF since 2007 to contribute to the renewal of nuclear energy in the United Kingdom. This fifth and sixth EPR projects will benefit from the experience gained from the EPR reactors under construction in Finland, France and China."
For more information: