Dr Rahul Mandal is best known for bringing home the trophies at the 2019 Great British Bake Off and the 2021 Great New Year Bake Off, but in everyday life he's a technical lead and STEM ambassador at the Nuclear AMRC. For British Science Week, we asked him to talk about how he encourages young people to consider a career in science and engineering.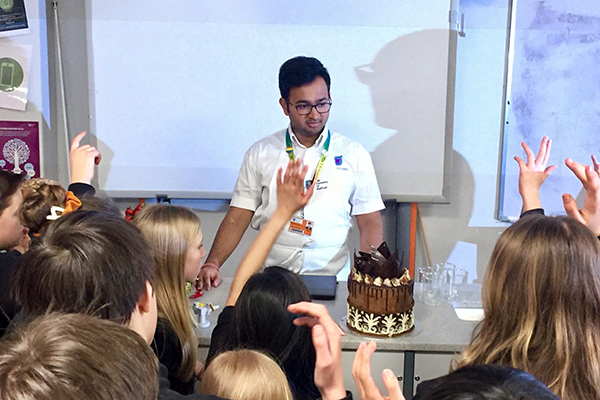 You might have seen me in the Great British Bake Off, or on other programmes or at events talking about my love of baking and science. However, there is a chance that you have no idea about what I do at the Nuclear AMRC.
I have worked for the Nuclear AMRC for five years, and am now a technical lead working on inspection and metrology-related projects. I started in the Nuclear AMRC as a research associate for the automated inspection of cleanliness project in 2015. Since then, I have worked in various different projects including the characterisation of diode laser cladding surface, characterisation of roughness, development of an electronic speckle pattern interferometry (ESPI) system, and a few other projects.
Along with the project work, I am also a STEM ambassador, working with colleagues to inspire school students in science, technology, engineering and maths. One of the most popular STEM activities we do is joining with chocolate. It is a great example to show students how welding works in a much tastier form, as you can see in this video from late 2019.
A lot of the time, students are not able to find practical examples to motivate them towards science and engineering. However activities like joining with chocolate provides a fun way to encourage them to think about engineering as a fun and practical career path.
As an engineer, we need to consider the environment. In the past century there was a considerable rise in energy consumption and industrial activity, resulting in a huge increase of atmospheric carbon dioxide which is causing global warming. As part of the global effort to limit the damage, the UK has committed itself to reaching net zero emissions by 2050.
Achieving net zero by 2050 is a massive challenge. The future engineers who will be working to tackle the challenge and take the world to the new horizon are in schools now. As scientists, engineers and STEM ambassadors, it is our responsibility to make science interesting to them.
I am really proud that I have the opportunity to play a little part in this huge effort and guide, encourage and inspire the next generation of engineers and scientists in their career path.