Specialist control and safety systems integrator Proeon Systems is building on its success with Fit For Nuclear (F4N) by enrolling in a new offshore renewables programme. Lesley Swift, commercial administrator, and Phrancesca Harrison, QHSE advisor, discuss how the two programmes have helped them focus on people excellence and win new work.
Despite the Covid-19 pandemic, Proeon has been very busy fulfilling our client requirements over the past 15 months. The company works within many diverse industrial sectors, which has helped us sustain the business during this difficult time.
We are also very pleased to be one of the 15 companies from across the Norfolk and Suffolk region to secure our place in the first intake of the industry-backed Fit 4 Offshore Renewables (F4OR) New Anglia programme.
Managed by the Offshore Renewable Energy Catapult and Nuclear AMRC, this scheme has its roots within the F4N system. It utilises the business excellence criteria from the original F4N programme, which has been a bonus for our company as we have already achieved granted  status within F4N, so we are familiar with some of the aspects of this new journey.
We started our F4N journey in 2016, achieving granted status on 1 November 2017. Our industrial advisor, Kevin Shepherd, helped guide us through this process which enabled us to benchmark ourselves and our management systems against the nuclear sector business excellence model.  Although we already had mature management systems, this helped us to refine our existing practices.
The F4N programme also helped us identify that our mature process model was meeting the business excellence criteria. However, our people excellence score was much lower than we had anticipated, something we had completely overlooked. We feel this is something the ISO standards do not focus enough on.
The next step was to set about identifying actions to improve our performance in this area. If we are completely honest, this was the most value we got from the F4N scheme – realising that people are our main product.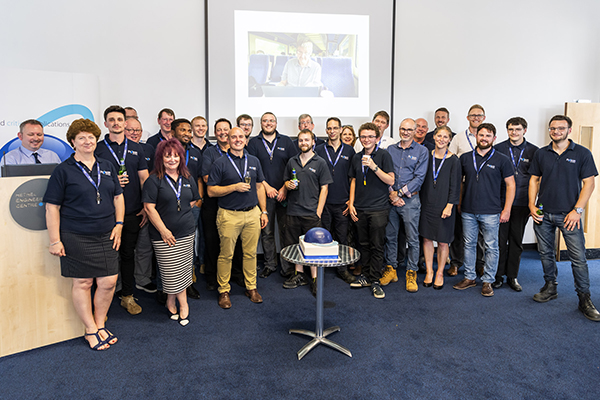 At this point we relied heavily on Kevin Shepherd who, as a people person with a great deal of experience dealing with people within various industrial backgrounds, helped inspire us to invest our energies in this particular area.
One of the main benefits from our engagement in this area was the implementation of employee consultation surveys, which we anonymised to enhance disclosure. The feedback was challenging but massively beneficial to our business, enabling us to identify additional areas for improvement.
We were also able to refine our existing continual improvement forum – empowering our employee stakeholders to identify areas of improvement within the business. This process involves employee representatives from each area of our business who bring ideas from their teams to be discussed and reviewed with a cost benefit analysis. Engagement with this monthly forum has helped us improve communication throughout each area of the business.
This scheme also helped us bridge the gaps between operations and the management systems of the business – as is often the case when businesses grow, this can become strained. The elements of the people excellence model assisted us in maintaining a closer relationship between the two areas. We actively sought to bridge this gap by sharing the business strategy with our employees and emphasising our core values on a regular basis, to ensure we are all singing from the same hymn sheet.
We took the decision to visually address these needs by having our core values and mission statement printed and installed on the walls throughout our facility. We have taken further steps to improve visualisation of company information throughout the business by implementing visual display screens, containing rolling presentations with standard business information. Each area is able to tailor additional content to their specific needs.
Proeon have been working together with our industrial advisor during the challenges of the pandemic towards achieving F4N regranting, and we are on track to achieve this in the near future.
During the course of our F4N journey, we were successful in securing a project to develop a replacement crane control and drive system for an application on a nuclear power facility in the UK. The crane system was over 20 years old and, while much of the mechanical side of the crane was regularly serviced and maintained to a high standard, there were issues around the obsolescence of the drives and the control systems. Proeon often works where control and automation are critical and complex, and this project was a prime example of this.
Working closely with the client, we were able to understand all of the implications of this high-profile project. With no margin for error, we were successful in ensuring a safe and continued operation of this crane upgrade, providing a full turnkey project that will be supportable for the next 20 years.
The client wished to remove the obsolescence of the old system by updating the crane system and benefit from enhanced functionality, while ensuring the same or better level of safety and control was maintained.
The entire package of control hardware, software and drives was engineered, procured, integrated and subjected to factory acceptance testing at our premises, before being installed at site by our dedicated team of multi-discipline engineers and technicians. The installation was further strenuously tested as a complete system during a site integrated test before being handed over to the client.
During 2020, we have also received enquiries via our F4N Connect profile from companies within the nuclear sector.