When the Covid-19 pandemic hit, pump manufacturer Amarinth changed to a secure way of working, safeguarding its business and supply chain, and even expanding its order book. Commercial director Alex Brigginshaw explains how the company's Fit for Nuclear journey helped them through a challenging year.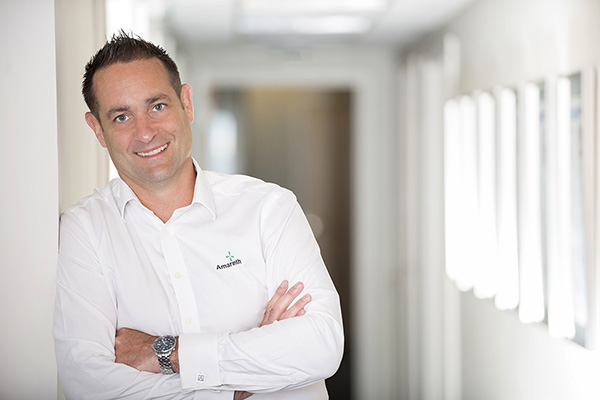 As the commercial director of Amarinth, I initially focused the company on providing high-quality bespoke centrifugal pumps on the industry's shortest lead times to the most demanding oil and gas projects around the world. In recent years, we experienced a sharp rise in interest from the power generation market, particularly from the nuclear industry requiring support and replacement of obsolete equipment.
I looked at how we could adapt our expertise from the oil and gas market to the needs of the power generation industry. As some established pump vendors have looked to reduce overheads, the lead times for power generation pumps have been rising dramatically to as long as 10 months. This is at a time when many existing power stations are coming to a natural replacement cycle for their pumps.
Focusing on the nuclear power generation market is a strategic initiative for us, and so we engaged with the Fit for Nuclear (F4N) programme to assist us in auditing and tuning our existing processes and procedures, and ensuring that the nuclear power generation companies could procure products from us with confidence.
Our F4N industrial advisor Kevin Shepherd helped us develop an action plan to build on our capabilities and reputation that we had started to establish in the power generation market, following sales of our pumps to sites such as Sizewell, Sellafield, and Dungeness. We decided to establish a three-pronged approach, enabling us to dovetail with a nuclear plant's needs at any stage of its lifecycle.
Firstly, we offer a range of horizontal, vertical, inline vertical, magnetic drive and submersible pumps born out of the exacting demands of the oil and gas industry. Our pumps are engineered, manufactured, and supplied on the most competitive lead times in the industry, with various models available from stock, and bespoke units on lead times of just six to 14 weeks. An important part of our nuclear programme was to register with the Rolls-Royce Proactive Obsolescence Management System (POMS) which enables power generation companies to quickly identify replacement solutions for obsolete equipment.
Secondly, we took the decision to design, manufacture, and stock a range of spares for existing pumps in nuclear power stations. Using modern design software, we re-engineer critical components so they outperform the original OEM parts, giving pumps an extended service life with improved reliability and potentially improved performance.
Thirdly, we offer a strip, service and refurbishment capability for all centrifugal pumps, regardless of original manufacturer. This starts with a full mechanical and hydraulic assessment report, and a recommendation as to whether refurbishment or replacement would be the most cost-effective solution. We test refurbished pumps to certify them to the same standards as a new pump, ensuring they will operate reliably for a further 20 years.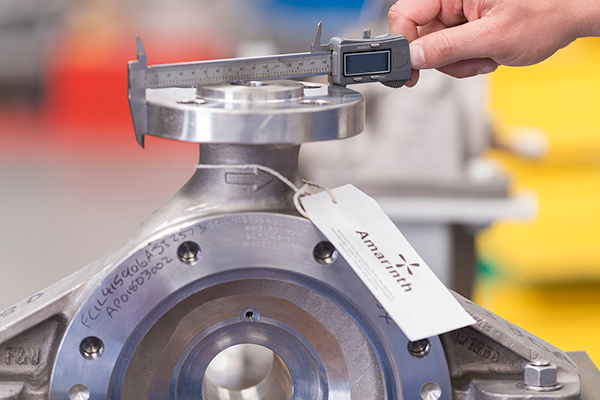 During the Covid-19 pandemic, Sellafield turned to us for a dimensionally and hydraulically interchangeable pump to replace their existing Girdlestone self-priming pump. We were able to provide a bespoke version by taking one of our dimensionally interchangeable pumps and redesigning the casing and impeller to ensure an exact match to the existing pump's hydraulic performance.
The new pump was designed, manufactured, tested and supplied within the necessary 20 weeks. It will deliver another 25-year working life for Sellafield, along with support and supply of spare and replacement parts directly from ourselves.
Thanks to our F4N action plan, we were already working on some of our procedures around health and safety and people management when the Covid-19 pandemic took hold. We were able to leverage and build on this activity, taking decisive steps in managing our commercial and engineering teams, and allocating factory space to remain operational while adhering strictly to government recommendations and ensuring the safety of all our employees. The result was that 90 per cent of our global workforce were able to continue working remotely.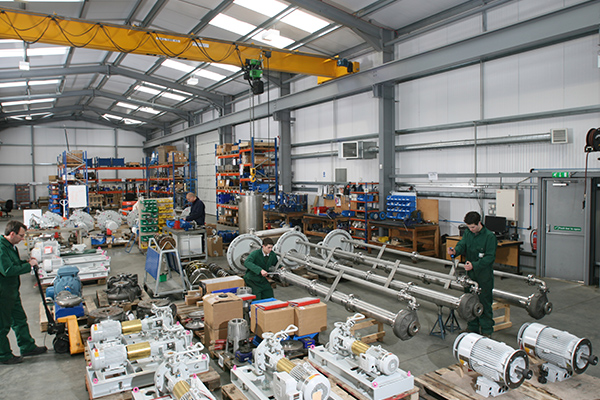 With our new working practices, we have been able to continue uninterrupted with technical evaluation meetings and contract progress meetings using video conferencing. We have been able to leverage our strong sub-supplier relationships to ensure critical component delivery milestones can be met. We introduced an advanced screening protocol for pre-booked deliveries, carried out in partnership with our suppliers, and have been able to bring all the necessary components into our assembly bays with the minimum of delay.
Once pumps have been assembled, live witness hydro testing is carried out remotely using an array of HD webcams and our integrated data software platform. This allows personnel from the customer and third-party inspectors to access real-time data and view live test results as they are produced.
I have been delighted to see all our staff pulling together and embracing the changes, and also how our customers have shown flexibility and understanding in working with the revised processes. We have not only been able to continue designing and manufacturing pumps and delivering them on time to customers, but have actually seen year-on-year growth in new orders.
Continued work on our F4N action plan has enabled us to reap benefits within the nuclear power generation market, including recent orders from EDF to replace pumps at Hunterston B, Heysham and Hartlepool.
It has been reassuring to see how the new thinking brought in through our F4N action plan has built on all of our hard work over previous years, resulting in a resilience for our company to thrive in this most difficult of economic times.