Workholding specialist Brown & Holmes has joined the Nuclear AMRC to collaborate on technology development and expand its presence in the nuclear sector.
Tamworth-based Brown & Holmes was founded in 1939, and today provides advanced workholding solutions, prototyping and precision machining to customers in sectors including aerospace, automotive and power generation. It operates two sites in Tamworth, and is developing a new dedicated facility for clean assembly in Derby.
The Nuclear Advanced Manufacturing Research Centre (Nuclear AMRC), based at the University of Sheffield and part of the UK's High Value Manufacturing Catapult, collaborates with companies of all sizes to help them innovate and win work in the nuclear supply chain.
Kevin Ward, managing director of Brown and Holmes, says: "We are absolutely delighted to have been accepted as members of the Nuclear AMRC. The opportunity to sit alongside and collaborate with industry leaders will help us build on our past experiences working in the sector. We firmly believe this will be a major growth area in supporting the world achieve its goals for clean energy and sustainability, and one we wish to be a part of."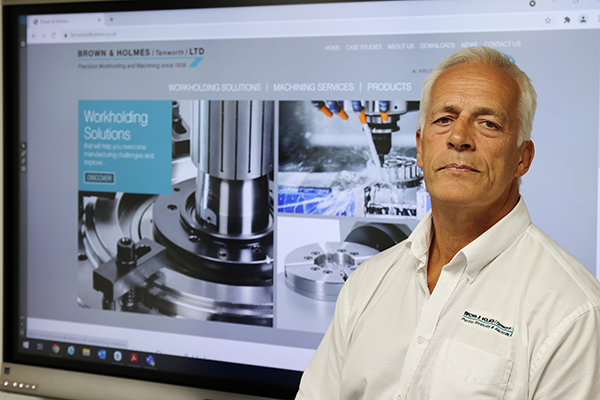 Brown & Holmes previously worked with the Nuclear AMRC through the Fit For Nuclear (F4N) supplier development programme, as part of a strategic move into the sector. Even before being granted F4N in late 2020, the company won new contracts from clients working in decommissioning and submarine propulsion programmes.
Sean Murphy, strategic relationship manager for the Nuclear AMRC, says: "We are pleased to welcome Brown and Holmes as members of the Nuclear AMRC. We look forward to supporting their continued exploration of the nuclear market, building on the exceptionally strong base they have today.
"I was personally very impressed with the operations at Brown and Holmes, and feel that the Nuclear AMRC has much to gain from collaborating. Their expertise in fixturing, assembly and machining will enhance our research board and other areas of work, and I see us working together to jointly solve problems or innovate with new ideas."
As part of its tier two membership, Brown & Holmes will provide specialist design and technical services to support projects at the Nuclear AMRC, including consultancy on workholding solutions for the centre's array of production-scale machining and fabrication cells at its research factory in Rotherham.
Later this year, the centre will open its new Nuclear AMRC Midlands facility at Infinity Park, Derby. The £20 million facility will focus on new technology areas which will deliver the maximum impact for the UK's nuclear manufacturers, and supply chain development across the Midlands region.