Rolls-Royce SMR is working with Polish industrial group Industria on the potential deployment of its compact nuclear power stations in Poland.
Industria has selected Rolls-Royce SMR technology to fulfil the zero-emission energy goals of the Central Hydrogen Cluster in Poland, and as part of their plans to produce 50,000 tonnes of low-carbon hydrogen every year.
The two organisations visited the Nuclear AMRC in February to discuss potential support for the collaboration, in areas including supply chain development.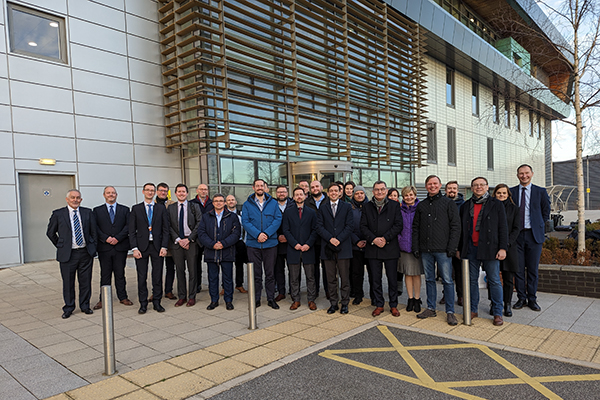 Tom Samson, CEO of Rolls-Royce SMR, said: "This is an important step in our relationship with Industria – setting out the basis on which we'll work together to develop joint plans for using our SMR technology in Poland to decarbonise energy intensive industry and produce clean power for generations to come.
"Poland is one of the key international markets for our factory-built nuclear power plant which provides 470MW of clean, affordable electricity from a sustainable source. This partnership has enormous potential and could support thousands of high-skilled, long-term jobs in Poland and the UK – both directly and in the supply chain."
Poland and the wider region are seeking to decarbonise, while bolstering their energy security. Rolls-Royce SMR offers a factory-built power solution for the electricity grid or off-grid industrial use such as hydrogen production.
Industria, which is wholly owned by the Polish government as part of Investment Development Agency JSC, is leading an effort to develop a supply chain of parts and modules for SMR production.
Cezariusz Lesisz, President of the Board of JSC, said: "Cooperation with Rolls-Royce SMR is a great opportunity for the Swietokrzyskie region and IDA's capital group companies in developing a high-tech industrial base for small scale nuclear power in Poland.
"Building new competencies of Polish industry is part of a trend of focusing on energy transition and strengthening our country's energy security and resilience. The Industrial Development Agency wants to support projects to transform energy intensive industry, which will be able to benefit from both renewables and nuclear energy, which will be available in Poland in the next decade or faster."
Industria is looking to deploy up to three SMRs to produce hydrogen and decarbonise regional energy infrastructure. There are additional future opportunities to replace more than 8GW of coal-fired power plants in southern Poland with SMRs throughout the 2030s.
Szczepan Ruman, CEO of Industria, said: "Rolls-Royce SMR is unmatched in terms of manufacturing concept and processes. Participation in a supply chain of parts and modules for Rolls-Royce SMR is a great opportunity for our region and for entire industry in southern Poland – which has built all the existing Polish power plants.
"We have a platform of cooperation for the industrial companies across southern Poland, which is our Central Hydrogen Cluster in which we cooperate with companies from our region as well as from three hydrogen valleys: Lower Silesia, Silesia-Lesser Poland and Subcarpathian. With the support of IDA Group, we aim to create jobs and secure Polish industry's strong participation in the SMR industry of the future.
"Central Hydrogen Cluster and the hydrogen valleys' aim is to secure clean energy sources for grid, industry and clean hydrogen production. Plans for deployment of Rolls-Royce SMR power plants in central and southern Poland will help meet these goals in the 2030s."