Great British Nuclear has been launched by government with a mission to identify the best small modular reactor (SMR) technology for the UK.
Originally announced in the Energy Security Strategy in April 2022, Great British Nuclear (GBN) is a government-funded arm's-length body to drive delivery of new nuclear projects.
As part of the government's new Powering up Britain proposals, GBN's first job will be to launch a new competition to select the best SMR technologies for development in the UK.
Andrew Storer, CEO of the Nuclear AMRC, said: "Having been closely involved with the initial development of Great British Nuclear, I am delighted to see the organisation launched with a focused mission to select the best SMR technologies for the UK. GBN will have a vital role to play in driving the delivery of new nuclear power from both small and large reactors, and helping UK companies develop the capabilities and skills they need to help secure clean energy and prosperity across the UK. I look forward to working closely with GBN in the coming weeks and months."
The first phase of the competition will launch in April, with a second selection phase starting in summer, and an ambition to select the leading technologies by autumn.
Government will co-fund the selected technologies through their development, and work with successful bidders on financing and site arrangements, with the aim of two new build projects reaching a final investment decision during the next parliament (2025–29). A roadmap setting out clear pathways for different nuclear technologies will be published later this year.
The government also announced that GBN will be based in or around the Manchester area, and operate through British Nuclear Fuels Ltd. Simon Bowen has been named as interim chair, and Gwen Parry-Jones as interim chief executive officer – full recruitment will start shortly. The government will bring forward legislation to set out a statutory role for GBN when parliamentary time allows.
GBN will also work with government on access to potential sites for new nuclear projects, and support consideration of further gigawatt-scale projects. The government will launch a consultation on siting strategy by the end of 2023.
Chris Pook, Nuclear AMRC's Director of Government Policy, commented: "We are ready to work closely with the government to support the establishment of GBN and ensure that the UK has the manufacturing capability, innovation and skills needed to underpin the programme of new nuclear build. Our ability to work across the whole industry means that we are well placed to work with all developers to help them access the capability they need to succeed."
The government also released its green finance strategy, confirming its intention to include nuclear in a new green taxonomy that will define which economic activities should be labelled as green, with the aim of encouraging investment in low-carbon infrastructure projects including nuclear new build. Consultation is scheduled to start in the autumn.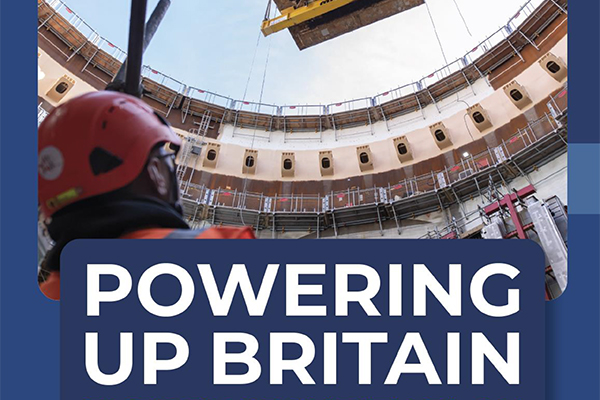 The government is already supporting Rolls-Royce SMR with up to £210 million development funding, announced in November 2021. The technology is now going through the generic design assessment (GDA) process, a necessary step before deployment. Rolls-Royce SMR has confirmed that it intends to engage in GBN's selection process.
An earlier SMR competition, launched by government in 2016, closed after its first information-gathering phase.